With today's snoozer in the market, one has to wonder what exactly is holding up the VIX. Let's take a look at what we know:
1. Cliff Deal is done
2. Debt pushed back to March
3. Earnings season is so far so good
4. SPX market volatility is: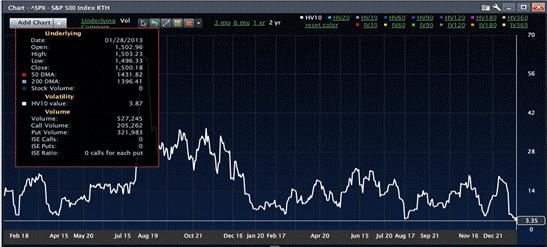 Livevol (R) www.livevol.com
Seriously, below 4%, after today, close to 3.5%. Yet the VIX closed at 13.57, that's about 4X of realized volatility.
Livevol (R) www.livevol.com
The only reason that this would occur is that there is some event that could cause volatility to pop back over 10. Interestingly, it would not take THAT much of a move to push HV higher. A 2% move higher would pull 10 day HV back near 10, and a second follow up move, in either direction, would keep 20 day above 10. My thoughts are that the market is anticipating something out of Non-Farms on Friday; despite how little they moved the market last month. If one banked on IV at anytime in the last year, you were a huge loser. I think we are in for more of the same. We have had very few market driving days in the last year, and those days we have moved haven't come from Non Farms.
The Trade:
The SPY 148-150-152 fly looks a little to juice for how little we are moving. I am think that we could even buy it back on Thursday night and likely be in a good shape. Against it, I might want to buy IV in AMZN or FB, possibly one of the other major earnings players (QCOM looks cheap).