This is a reminder that on Tues., Feb. 19, 2013, the trading venue for SPXpm options will be changed from C2 to CBOE, where SPXpm will trade on CBOE's Hybrid platform, which incorporates both electronic and open outcry trading. There are no symbology changes associated with this trading venue re-location. CBOE Regulatory Circular RG13-024. The migration of SPXpm to CBOE is expected to facilitate increased access and liquidity by exposing the product to an even broader user base, and by simplifying spread trading and the rolling of p.m.-settled S&P 500® options from one week to the next.
CBOE's flagship SPX option, which is a.m.-settled, continues to trade in CBOE's open outcry environment under ticker "SPX."
COMPARING SPECIFICATIONS FOR S&P 500 OPTIONS
Beginning next week, SPXpm will be offered on CBOE for the first time, joining the other cash-settled index options in the tables below.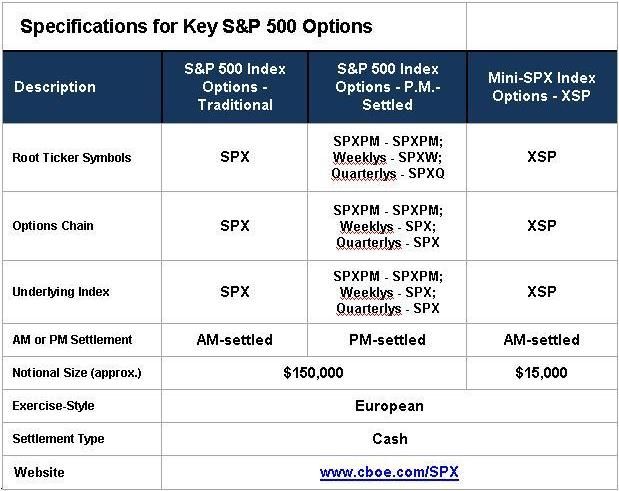 DIFFERENT EXPIRATIONS AND IMPLIED VOLATILITIES
The next table shows different expirations and implied volatilities at the close on Feb. 13th for select S&P 500 index options over the next month. On Feb. 13th the SPX Index closed at 1520.33, and the VIX® Index closed at 12.98. All the options below were close to at-the-money, and often the implied vol for A-T-M index options is less than for deep-out-of-the-money index options.
Select S&P 500 Options That Expire Over the Next Month

Options Root Ticker Symbol

A.M. or P.M. settled

Expiration

Call Strike Price

Implied Volatility -Ask – at close on Feb. 13*

SPX

A.M.

Feb 16

1520

9.5

SPXPM

P.M.

Feb 16

1520

9.1

SPXW

P.M.

Feb 22

1520

9.4

SPXW

P.M.

Mar 1

1520

10.3

SPXW

P.M.

Mar 8

1520

10.6

SPX

A.M.

Mar 16

1520

11.0

XSP

A.M.

Mar 16

152

11.0

SPXPM

P.M.

Mar 16

1520

10.9

* Unofficial estimates of implied volatility from Bloomberg.
GROWING VOLUME FOR SPX WEEKLYS
In Jan. 2013 the average daily volume for SPX Weekly options was 149,393, the second highest month ever for the SPX Weekly options. The migration of SPXpm to CBOE has the potential to facilitate further growth in volume for the P.M.-settled SPXPM and SPX Weekly options. For more information, please visit www.cboe.com/SPX.