Yesterday (Feb. 21st) was an all-time record volume day for weekly options on the S&P 500 Index — 391,856 SPX Weekly options were traded www.cboe.com/SPXW.
Weeklys options can provide opportunities for investors to implement more targeted buying, selling or spreading strategies. Weeklys options can help investors efficiently take advantage of market events, such as earnings, government reports and Fed announcements.
MARCH 4TH PANEL DISCUSSION – CHART SHOWING GROSS PREMIUMS
On Monday, March 4 in California at the CBOE's 29th Annual Risk Management Conference (www.cboeRMC.com) these three panelists will discuss several topics related to options writing, —
• John Colville, Chief Investment Officer, City of Sacramento
• Scott Maidel, Senior Portfolio Manager and Trader, Equity Derivatives, Russell Investments
• Victor Viner, President and CIO, V2 Capital
Mr. Maidel will provide findings from a paper by Russell Investments. Capturing the Volatility Premium through Call Overwriting. (July 2012) (available at www.cboe.com/benchmarks)
Below are some excerpts from the paper on the topic of gross premiums generated by writing index options on a weekly, monthly, and quarterly basis. The average total annual gross premiums were 62.7 per annum for the strategy of selling weekly index options (see the light blue columns in the chart below). Please note that transaction costs can add up for frequent trading, and that the net returns can be much less than the gross premiums received.
SPX WEEKLYS – AVERAGE DAILY VOLUME CHART
SPX Weekly options experienced a record volume month in Nov. 2012 with 161,116 average daily volume, and (as mentioned) yesterday saw record volume of 391,856 SPX Weekly options. The chart below shows strong volume growth.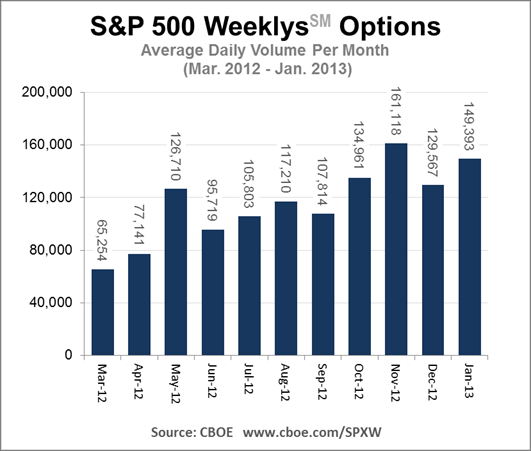 SPXPM AND SPXW – BOTH P.M.-SETTLED OPTIONS NOW ON CBOE
This week the trading venue for SPXpm options was changed from C2 to CBOE, where SPXpm now trade on CBOE's Hybrid platform, which incorporates both electronic and open outcry trading. The migration of SPXpm to CBOE is expected to facilitate increased access and liquidity by exposing the product to an even broader user base, and by simplifying spread trading and the rolling of p.m.-settled S&P 500® options (including SPX Weeklys) from one week to the next. www.cboe.com/SPX