Mr. Scott Maidel, Senior Portfolio Manager/Trader, Equity Derivatives, Russell Investments will deliver a presentation at CBOE's 29th Annual Risk Management Conference™ in California at 1:15 pm on Monday, March 4th.
Joining Mr. Maidel on a panel will be Mr. John Colville, Chief Investment Officer, City of Sacramento, and Mr. Victor Viner, President/CIO/Co-Portfolio Manager, V2 Capital.
They will speak on a panel that will cover the topics of Using Short Options Positions to Manage and Lower Volatility of an Equity Portfolio —
-Pros and cons of using index options versus individual equity options
-Creating a portfolio of staggered and laddered option positions to mitigate pin risk and lower overall volatility
-Different types of option contacts to use and benefits of each: traditional listed, flex, OTC, weeklys
-Using technical and volatility analysis for dynamic strike and tenor selection
-Implementing options-based programs in a pension plan
Mr. Maidel has seen institutional and main street interest in:
› Call – put write strategies; Typically short dated call write; Short and long dated put write
› Equity replacement and Overlay Strategies; Replacement: Risk reversals, Buffered Levered (aka BRENs); Overlay: traditional equity collars and put spread collars.
Mr. Maidel is the co-author of a July 2012 paper on "Capturing the volatility premium through call overwriting" that is available at www.cboe.com/benchmarks.
One of the Exhibits from the paper noted the relatively strong performance of the CBOE S&P 500 2% OTM Index (BXY) —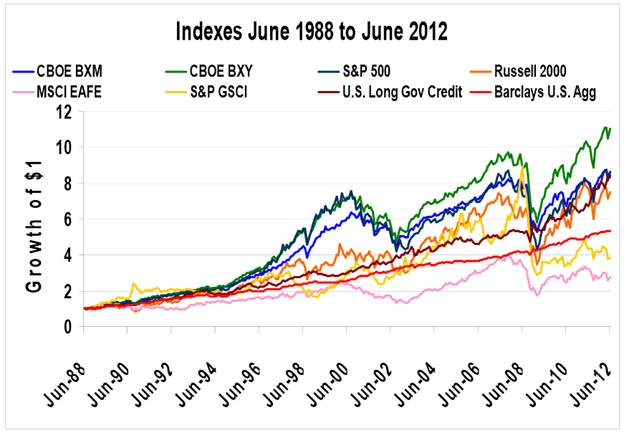 Indexes and/or benchmarks are unmanaged and cannot be invested in directly. Returns represent past performance, are not a guarantee of future performance, and are not indicative of any specific investment.
The paper notes that —
" … Call overwriting strategies can be viewed as selling a form of insurance whereby the option seller receives an upfront call premium for writing insurance to a buyer who wishes to gain long exposure with limited downside risk. The main risk and potential cost at expiration to the call option seller is the liability born if the security/index moves above the strike price plus premium points received. All forms of insurance come at a cost and in the world of options a key element of the cost is the "volatility risk premium….'"
SPX WEEKLYS – GROWTH IN VOLUME
Mr. Maidel will speak about the topic of how SPX Weeklys can be used to capture premium income. On February 25th SPX Weeklys had a record volume day with 395,046 contracts traded. The chart below show the growth in average daily volume per month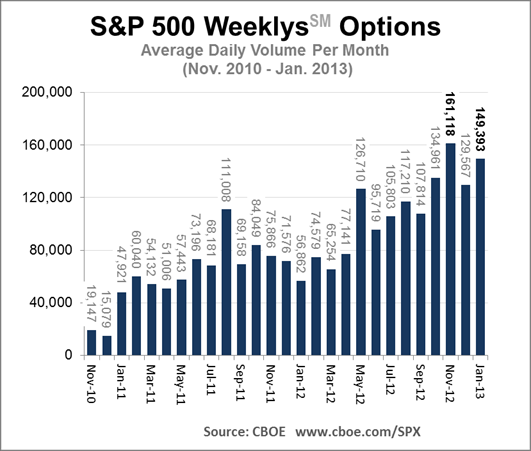 For more information on CBOE's 29th Annual Risk Management Conference, please visit www.cboermc.com