While the SPY and DIA have been getting all the press for pushing new highs, the more interesting study recently has been the QQQs. The NASDAQ 100 caught our attention very early in the year when it appeared that traders had abandoned the QQQs almost entirely. What we're referring to was the remarkable lack of volatility in the price during the entire month of January. Without diving any deeper in quantified volatility, simply look at the collection of dojis and spinning tops that were formed during the month. These candles are considered "indecision" – neither bulls nor bears hold the upper hand.
While the candles did expand for a few days at the beginning of February, the price stayed between the support and resistance shown in the attached chart. February 8th saw a breakout above the channel. However, it lacked the volume confirmation we'd expect from a good breakout. In fact, volume simply dried up on the breakout.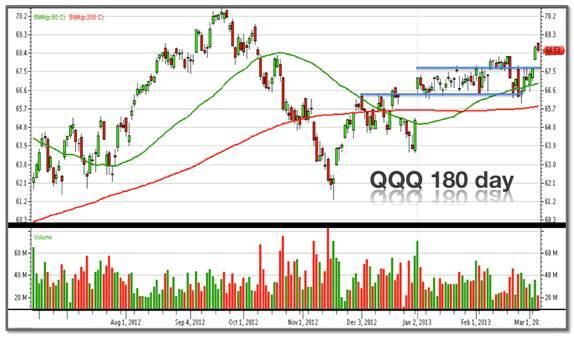 February 20th brought an increase in candle length along with a jump in volume. That price move took the QQQs right back into the original channel. In other words, the only motivation we're seeing by the sellers is to get back to January's comfort zone.
February 26th was a hammer reversal with the confirmation on the 27th. Since then, the QQQs have posted a $2 gain (about 3%). So they must be joining the DIA and SPY in their rally, right? Hardly. Monday's 19.3 million shares were less than half the volume we saw when the price dropped back into the channel on the 20th/21st.
Even though the QQQs are currently trading above the channel, they haven't shown the enthusiasm we'd expect from an index that has room to run. The trade for now is short-term reversals around these support and resistance levels. We're watching for fall 2012-type volume (60 mm+) to tell us when the stalemate is broken.
Pro Market Advisors